Lokomotiv is a team with fans from all over the world and today "Lokomotiv Moscow Blog" carry you in Belarus, where Evgenij supports "Railroaders" since 2001!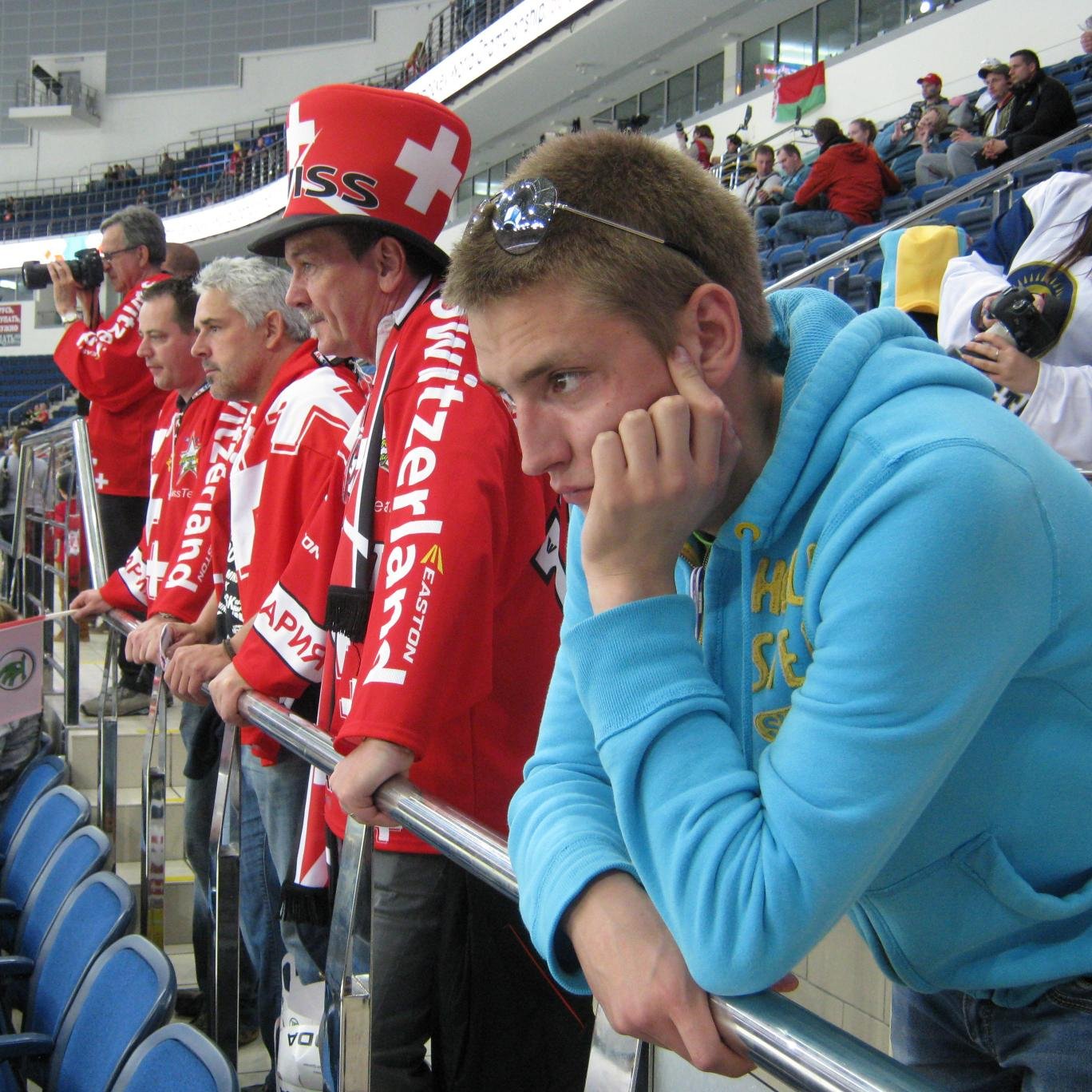 - Hi, Evgenij. Welcome to the Italian fan club of Loko.
"Hi Italy! This is my first interview, so I hope my answers won't be boring. Let's start!"
- Tell us how you have became a Lokomotiv fan.
"Oh, everything started in 2001, just a year before Loko won for the first time the title
. I was seven years old and I didn't understand so much about football, so I started zapping on TV and I found casually on NTV the match Lokomotiv - CSKA 3:2, if I remember rightly it was on September 15th 2001. I run towards my father (a Spartak fan) screaming that Lokomotiv won, he answered that Spartak needed a CSKA defeat and so I said not to win. Then I continued supporting Lokomotiv so much that I started the Railways school to become a machinist. Later I made also two tattoos, the former "Only Loko, only victory!", the latter on the hearth with the emblem of our club. Nowadays I continued supporting our dear Lokomotiv. "
- Compare current Lokomotiv with the 2004 one. What are the greatest differences in your opinion?
"This is an interesting answer to reply. That season started with the departure of Sergey Ignashevich and the arrive of Dmitry Sychyov, former forward of French Marseille. When Lokomotiv won the title in 2004 I was a little boy of about eleven years old. Despite this, I remember very well when Loko won against Shinnik thanks to the goals of Bilyaletdinov and Sychyov. There was another guide in the society and I don't like to speak about this. Under Syomin there was another team, which played in the main rounds of Champions League and twice was qualified in the next turn. In 2014, unfortunately, we were eliminated by Cypriots and missed the qualification in the groups of Europa League. I remember players such as Izmaylov, Sychyov, Bilyaletdinov, Loskov and nowadays there aren't some like them. In 2005, after nineteen years (for the first time since 1991), Lokomotiv changed the coach and Yuriy Syomin left the club. Instead of him, the society nominated Vladimir Estrekhov, who arrived third in RPL and qualified Loko in the play-off round of UEFA Cup. After this, in Loko started a history in the history, a lot of coaches in fact arrived at Cherkizovo. Of course, it's impossible to return to the old Lokomotiv, the time goes by, but we have to work with what we have after the elimination in Europa League 'cause Apollon and the two defeats in RPL against Kuban' and Zenit. After these games, Kuchuk was sacked, who left the team next the draw v Mordoviya. In this moment we have Miodrag, let's see how it'll be under him! I can' say the differences between now and eleven years ago, but we have to fight and win! The time goes by and we have to support and believe in the team, this team, however it's different from our old and dear Lokomotiv."
- Are there a lot of Lokomotiv fans in Belarus?
"Sincerely, I don't know many of them. Maybe there are some fans that only follow and support a bit Loko. There aren't too much mad fans.
"
- Have you ever been at Cherkizovo watching a Lokomotiv game?
Describe your first experience at Lokomotiv Stadium.
"If I'm not wrong, it's Lokomotiv - Rubin 0:0 in 2010. It was difficult to find the tickets because I had to search in social networks a person that could buy the ticket for me and then I could give back the money. I found a boy and I met and thanked him for the pleasure out of the stadium. I was for the first time in the Youth Sector and of course I can't forget that wonderful atmosphere. It's really different being sit down in front of television and stand up chanting in the stands. I can't describe it with the words, it's a completely different world. Unfortunately the match finished 0:0 and so I din't watch any goal. I remember that atmosphere for ever in my life. I'm not living in Moscow, but I hope that I will watch more games in our stadium.
- Who are your three favorite players in Loko in this moment? Why?
"Dame N'Doye, good forward and good scoring; Aleksander Samedov, fast player who plays well on the wings and makes assist; Manuel Fernandes, we bought a really technical player. I like also Maicon, but this would be the fourth. I like his dribbling and speedy."


- In which position, in your opinion, will Lokomotiv finish in this RPL?
"Interesting answer, of course every red-green fan wants that the club would be first! Unfortunately, we have to see concretely the situation and in which position under Miodrag Bozovic we'll finish the first round. Let's hope that we'll fight until the end. I think that we can fight for the first three positions, we need at least the second or the third place. We have to support the team, hoping that Zenit will lose some points, especially after their problems in this moment."


- If you have the possibility to leave a message to all Lokomotiv fans all over the world that read this blog, what would you like to say?
"Support your dear Loko, as in the victory as in the defeat. Good luck and love Lokomotiv, after all it's the best team worldwide! "
- Thanks a lot for this interview. We are very pleased that you answered to our questions. Bye for now and... vperyod Loko!
"Only 'vperyod' and never 'nazad'! "